Benefits of Riyadh Business Setup
Riyadh, the capital city of Saudi Arabia, is rapidly becoming one of the most sought-after business destinations in the world. With its modern infrastructure, strategic location, and supportive government policies, Riyadh is attracting both local and international investors to set up their businesses in the city.
The benefits of setting up a business in Riyadh are manifold, and in this blog post, we will explore some of them in detail. Whether you're looking to expand your existing business or start a new venture from scratch, Riyadh offers a promising environment for growth and success.
So fasten your seatbelts as we take you on a journey through the various benefits of establishing your business in Riyadh.
1. Job Opportunities for Young Entrepreneurs
Are you a young entrepreneur looking to kickstart your career in Saudi Arabia? Look no further than the business accelerators and incubators located throughout Riyadh.
Not only do these programs offer hands-on training and mentoring from experienced professionals, but they also provide job opportunities for graduates. By connecting with the best companies in the world, graduates of these accelerators are able to launch their own successful businesses or join existing ones as valuable team members.
But it's not just about finding a job. Entrepreneurship offers a plethora of benefits, including independence and the ability to create something of value. And with Saudi Arabia's Vision 2030 initiative emphasizing the importance of entrepreneurship in driving economic growth, there's never been a better time to take the leap and start your own business.
With the support of business incubators and accelerators, as well as improved human resource development, financing simplification platforms, and transportation services, there's never been a better time to explore the world of entrepreneurship in Riyadh. And by gaining a better understanding of the local labor market and traditions, you can ensure that your business is poised for success.
So, whether you're just starting out or looking to take your current endeavor to the next level, don't underestimate the benefits of entrepreneurship in Saudi Arabia. With expanded job opportunities, valuable support networks, and a growing economy, there's no limit to what you can achieve.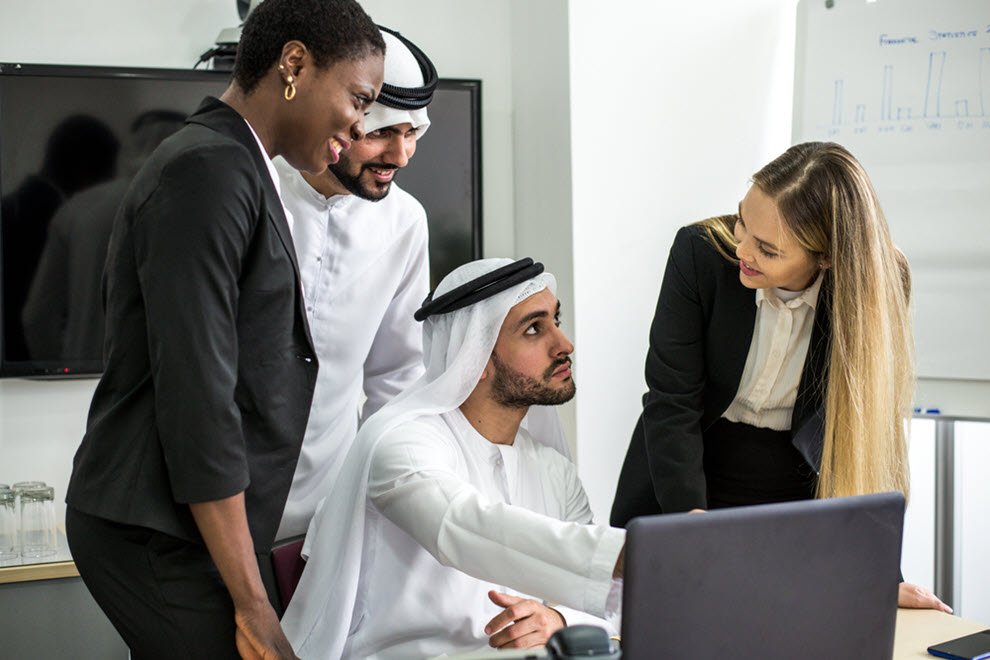 2. Investment Opportunities through Business Incubators
Investment opportunities through business incubators in Riyadh are a great way for entrepreneurs to secure funding for their new ventures. As mentioned earlier, these incubators provide a safe haven for emerging companies, offering a variety of services that increase the chances of survival for startups.
Not only do they provide financing to start your business, but they also provide guidance on how to present your product in the market and improve its quality until it enters the world of competition.
Partnering with a business incubator can be a game-changer for your startup. Apart from financing, these incubators provide networking and mentorship opportunities, giving you access to industry professionals and potential investors. This means that you have the opportunity to learn from experienced entrepreneurs and take advantage of cross-border services that you may not have access to otherwise.
By choosing to work with a business incubator in Riyadh, you can take your business idea from concept to reality.
You'll be guided on the best strategies to succeed, including the exploitation of market opportunities, employee training, and the development of a sustainable business model. All of these services are vital for initiating and growing a successful startup.
Furthermore, by successfully setting up your business in the Riyadh region, you can take full advantage of the stimulating environment and the numerous benefits that come with it. These benefits include improved human resource development, enhanced job performance, reduced unemployment, and the locally-specific knowledge of local labor market and traditions.
In essence, partnering with a business incubator in Riyadh provides you with the necessary support to develop and grow your venture. Combining this opportunity with the benefits of the local market, financing simplification platforms, afforestation advantages, and more, opens up a wealth of possibilities for you as an entrepreneur. So, do your research, prepare a business plan, and take advantage of the investment opportunities that come with working with a business incubator in Riyadh.
3. Improved Human Resource Development
If you're looking to establish a business in Riyadh, you'll want to consider the benefits of improved human resource development. This is an essential aspect of any successful business, and it's one that the city prioritizes. By investing in your human resources, you can improve your job performance, reduce unemployment, and attract top talent to your organization.
To take advantage of these benefits, you'll want to explore the resources available to you, including business incubators and financing simplification platforms.
These can help you secure the funding you need to invest in your team and provide the necessary training and development opportunities to help them grow. Additionally, you can benefit from afforestation programs and transportation services to enhance your team's work-life balance and support their well-being.
Beyond these practical resources, it's also important to understand the local labor market and traditions. This can help you to better engage with potential employees, establish effective recruitment and retention strategies, and create a positive company culture that reflects the values of the community.
As you work to improve your human resource development, it's important to remember the rights and duties of workers in the Kingdom of Saudi Arabia. By ensuring that your practices align with these regulations, you can create a respectful and fair work environment that supports the well-being of your employees and the success of your business.
Overall, improving human resource development is crucial to building a successful business in Riyadh. By investing in your team and building a strong company culture, you can attract top talent, improve performance, and contribute to the city's vibrant and growing business community.
4. Enhanced Job Performance and Reduced Unemployment
When it comes to enhancing job performance and reducing unemployment, there are several steps you can take as a business owner in Riyadh. Firstly, it's important to focus on human resource development, providing your employees with the necessary training and skills to excel in their roles. This can be done through workshops, on-the-job training, and professional development plans.
Additionally, utilizing a behavioral observation scale in performance evaluations can help identify areas for improvement and create a roadmap for success. By setting clear goals and expectations for your team, you can create a culture of accountability and excellence.
Another key factor in reducing unemployment is creating job opportunities. As a young entrepreneur or business owner, take advantage of the investment opportunities offered through business incubators, and explore financing simplification platforms to help get your ideas off the ground.
By understanding the local labor market and traditions, including workers' rights and duties, you can build a strong relationship with your team while also contributing to the overall success of the economy in Riyadh. With the transportation and afforestation benefits offered by the government, there's never been a better time to invest in your business and support job growth in the Kingdom of Saudi Arabia.
5. Distinguished Transportation Services
Now that you have learned about the various benefits of setting up your business in Riyadh, let's dive deeper into the exceptional transportation services that the city offers.
As mentioned earlier, Riyadh boasts a state-of-the-art transportation system that operates through 85 equipped stations and six main axes. This allows for seamless commuting within the city and offers a convenient mode of transport for both entrepreneurs and employees.
With their commitment to providing an exceptional experience for touring the city, the transportation services cater to emergency cases, provide first aid, and facilitate the transfer of injured individuals in cooperation with the Civil Defense. These services not only ensure the safety of commuters but also alleviate any potential concerns that entrepreneurs may have when it comes to transportation within the city.
The Ministry of Transport also recognizes the efforts put in by the employees of transportation services and has rewarded them for providing safe and fast service to commuters. As a business owner, having access to efficient and reliable transportation services can greatly benefit your business operations, enabling you to run a successful business without the added stress of transportation-related concerns.
Furthermore, sufficient funding has been allocated towards developing public transport services in Riyadh, and the implementation of modern technology has expanded and improved the bus network. This ensures that transportation services in the city stay up-to-date with the latest technological advancements and provides a seamless traveling experience for commuters.
As an entrepreneur, you can rest assured that transportation services in Riyadh are continuously striving to improve their services and offer a distinguished experience for commuters. With the added benefits of job opportunities, investment opportunities through business incubators, improved human resource development, infrastructure, and tradition knowledge, Riyadh's transportation services provide a reliable, efficient, and convenient mode of travel for you and your business.
6. Financing Simplification Platforms
If you are starting a business in Riyadh, you will need financing to make it a reality. Fortunately, the city offers a variety of financing simplification platforms to make the process easier for you.
First and foremost, you can apply for personal financing up to 200 thousand riyals without even visiting the bank. The Saudi Home Finance Company offers a competitive profit margin and simple steps to apply for new, refinanced, or additional financing online.
Secondly, there are various sources of funding for small and medium enterprises, such as guarantees and microfinance. These financing tools are designed to share risks and make it easier for businesses to obtain financing, particularly for pilot projects or short-term funding events.
Thirdly, Riyadh also provides businesses with investment opportunities through business incubators, which offer mentorship, resources, and funding for young entrepreneurs. This can help improve human resource development, enhance job performance, and reduce unemployment by creating high-quality job opportunities in the private sector.
Lastly, financing simplification platforms also include guidelines and support for business owners on remote work program activation, local labor market knowledge, and workers' rights and duties in the Kingdom of Saudi Arabia. With these resources, starting a business in Riyadh is easier and more accessible than ever before.
7. Afforestation Benefits Under the Saudi Green Initiative
Under the Saudi Green Initiative, afforestation is a key component to combat desertification and reduce carbon emissions. As a business owner in Riyadh, you can benefit from afforestation projects through investment opportunities in nurseries, horticulture works, and landscaping. Afforestation also creates new opportunities for job employment and contributes to the improvement of residential neighborhoods.
By investing in afforestation projects, you can make a significant impact on reducing the threat of sandstorms while also promoting energy savings and increased comfort. Afforestation also serves as a natural carbon sink, which can combat climate change while providing a greener and more sustainable ecosystem.
Through the Saudi Green Initiative, you can also gain knowledge and support for sustainable afforestation projects that align with environmental sustainability efforts. Additionally, waste recycling programs and initiatives are introduced, which can enhance societal benefits, such as protecting life, property, and reducing losses.
As a business owner, investing in afforestation projects not only benefits the environment, but it also creates new opportunities for job employment and improves the quality of life for residents and visitors of the capital. The Saudi Green Initiative's afforestation projects provide a unique opportunity for entrepreneurial growth and promote sustainable development practices for a greener future.
8. Knowledge of Local Labor Market and Traditions
When it comes to setting up a business in Riyadh, it's important to have a solid understanding of the local labor market and traditions. This knowledge can help you make more informed decisions about hiring and managing employees, as well as building relationships with customers and business partners.
One way to gain this knowledge is by working with local recruitment agencies or consulting firms that specialize in the Saudi Arabian market. These organizations can provide valuable insights into the cultural and social norms that shape the local labor market, as well as help you identify the best candidates for your business needs.
In addition to working with experts, it's also important to invest time and resources in building your own understanding of the local culture and traditions. This might involve attending cultural events, visiting local businesses and institutions, or simply taking the time to listen to and learn from local residents.
By doing so, you'll be better equipped to navigate the unique challenges and opportunities presented by the labor market in Riyadh, and to build strong relationships with the people and institutions that will help your business succeed.
In short, taking the time to understand the local labor market and traditions is an essential step for any entrepreneur looking to set up a business in Riyadh. By doing so, you'll be well-positioned to build a successful, sustainable enterprise that benefits both your customers and your community.
9. Guide on Remote Work Program Activation for Business Owners
As a business owner, activating a remote work program can provide a cost-effective recruitment option and enhance the productivity and job discipline of your employees.
To get started, determine which positions are eligible for remote work and apply for the program. The Ministry of Human Resources and Social Development offers a guide on activating the remote work program, which can bridge the gap between business owners and job seekers. By adopting remote work, your company can access a wider pool of global talent at lower costs.
Consider the advantages and importance of remote work, and browse the available job opportunities. With technical advancements, it has become easier to perform various tasks from anywhere. To activate the program, click on the provided link and complete the registration process, after which you can select a photo. Remember to ensure your workers' rights and duties are protected under the Kingdom of Saudi Arabia's labor laws. By implementing remote work, you can contribute to improving the human resource development and reducing unemployment, among other benefits mentioned in this guide.
10. Workers' Rights and Duties in the Kingdom of Saudi Arabia
As a business owner in Riyadh, it is important to understand the Workers' Rights and Duties in the Kingdom of Saudi Arabia. The Labor Law issued by Royal Decree No. (51) defines the tasks and responsibilities of both employers and workers.
Under this law, employers have the duty to bear the fees and expenses for recruiting non-Saudi workers. They must also adhere to the disciplinary rules and ensure the safety and wellbeing of their workers.
On the other hand, workers are required to execute their duties in accordance with work-related instructions and abide by the employer's guidelines. They are entitled to certain rights such as fair payment, legal vacation leave, safe working conditions, and the right to unionize.
It is important to note that any natural or legal person engaging in the activity of recruiting Saudis or workers must be authorized by the Ministry of Labor. As a responsible business owner, understanding and adhering to the Workers' Rights and Duties is crucial in maintaining a positive and productive work environment.
Benefits of Riyadh Business Setup